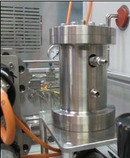 Hassler Cell
Product Description
TOP INDUSTRIE has been developing technical means for research centres working in the following areas:
Geomechnical tests under pressure on soils, rocks, cements abd concrete.
Triaxial tests in fissuring, drainage, permeation, percolation, creep..
Measures of displacemrnt, dilation, flow
Features
Easy to use, inexpensive.
Makes permeability tests easy to carry out.
Internal temperature monitoring.
PED 97/23/EC Compliant.
Closure through conical shutter and screwed in cylinder head.
Confinement pressure control.
Control of upstream and downstream draining pressure.
Contact Us
304, Chopra Complex, 8 Community Centre , Preet Vihar , Delhi, Delhi, 110092, India
Phone :91-11-22529382