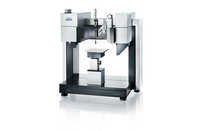 DSA100 - Drop Shape Analysis System
Product Description
DSA100: Drop Shape Analyzer (DSA100) is a high-quality system solution for almost all tasks in the analysis of wetting and adhesion on solid surfaces. From the basic unit for precise measurement of the contact angle to the fully automatic expert instrument for serial measurement of surface free energy, This is the right instrument for your special requirements.
DSA100 Series configuration.
DSA100 B:

Basic configuration.

DSA100 S:

Standard configuration

DSA 100 E:

Expert configuration.
Measurement of static and dynamic contact angles.
Measurement of surface free energy of solids.
Measurement of interfacial and surface tension of liquids.
Completely modular building block system.
Manual or automatic sample positioning.
Manual or automatic dosing of up to 8 test liquids.
Various temperature, high pressure and environmental chambers.
Application
Characterization of surface pre-treatment processes.
Investigation of the adhesion and stability of bonding and coating processes.
Investigation of coating substances in accordance with DIN 55660.
Checking the wettability of plastic, glass, ceramic, wood or metal
Quality control for wafers and microelectronics.
Contact Us
1st floor, 454, FIE Patparganj Industrial Area, Delhi, Delhi, 110092, India
Phone :91-11-22529382